Creo God Simulator
ALPHA HAS ARRIVED - Creo God Sim's Big Update
---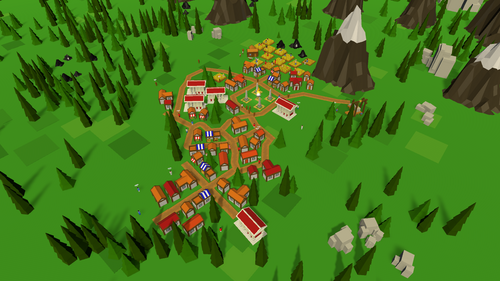 Creo's Alpha Stage has Arrived
Ladies and gentlemen, I present you with Creo God Simulator's alpha version. It's been quite some time since the last update, but this was for a good reason. With a major UI overhaul, and the creation of a new quest engine, I've created a new world of possibilities for our exciting game.

The list of updates and changes is HUGE, so feel free to give it a quick glance, or grab your reading glasses and get ready for a novel. I've put tons of work into the game, not to mention the exciting new soundtrack Creo's gifted composer—Olivia Crawford—is working on! There's lots in the works for Creo God Sim. The following is a list of current projects I'm working on:

A new variety of quests and challenges to keep you buys and addicted for hours on end.
Several new buildings and mechanics, such as Hospitals, Libraries, Mills, and many more.
A new combat system with militias and barracks, to fight off monsters and invaders
New events, such as Lightning Storms, Raiding parties, and more!
This alpha version of Creo will be updated with some Quality of Life updates and bug fixes, but major mechanics and gameplay updates will no longer be applied to the Itch.io DEMO VERSION.

If you're interested in becoming an Alpha or Beta tester, and would love to follow the development of my game,
join our DISCORD COMMUNITY now!

Now what you've all been waiting for: the list of updates in Version 0.1.0:



---------------BUG FIXES ----------
-Fixed bug where right clicking when holding shift in build would break UI
-Fixed small tree texture loading bug
-Fixed main menu text color not converting to white
-------------CHANGES ADDED --------
-MAJOR CHANGES-
Created Quest and Objective Engine
Complete UI Overhaul
Roads need to connect to other roads to place
Made it so now, ALL markets and shops are accessible from one trade menu screen!
Created code structure to allow for easier future language localizations
Added in Lightning God Power (Now you can smite with precision)
Added in the new original soundtrack by the talented Olivia Crawford
- Added ability to save/load quests when saving game
- MINOR CHANGES-

Created new build and trade menus
Added volume settings and options menu in game pause menu
Settlers can now talk at any time, rather than only at specific times
Added ability to create particle effects on UI
Created code structure where dev can create future quests easily
Added sun object
Added earth slice object
Added an additional tree model
Meteors now create craters, which take time to go away and prevent building
Increased straight road placement speed
Files
Creo God Simulator V.0.1.0.zip
49 MB
Jan 03, 2019
Comments
Log in with itch.io to leave a comment.
After building the plaza, I can't build any other building for unknown reasons.
Hey there Giuseppe,

In order to place structures, they need to be placed within the blue build area, which is created by your road network. Did you lay down roads before attempting to place buildings? That might be a possible explanation for the issue.